With Christmas round the corner, I wanted to squeeze in this update as I know many of our clients will be catching up on some admin over the festive break - and I hope some of this will be helpful!
We've released a couple of updates to Book That In over the last few weeks - here are some of the changes you will find next time you login:
1. New Franchise Report and Auto Fee Processing
All franchisors now have a brand new Franchise Report, which shows you at a glance how each of your franchisees has been performing in any given month.
You can also set up your Franchise Management Fee in Book That In so you will receive your fee automatically every time a franchisee receives a booking.
Fees work with all booking types and as a percentage or fixed fee per booking - or both!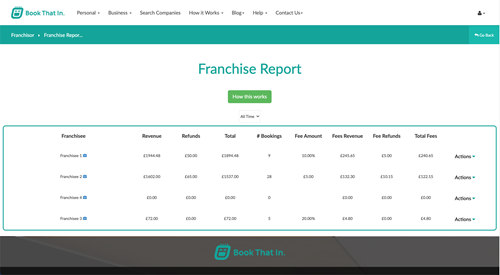 2. Quicker Way to Renew Terms or Add Dates
A simple improvement, but one that will shave precious minutes off the process of renewing class terms and adding event dates.
Under the 'Options' menu for each Group Event Type on the Group Overview, you will now find an option to 'Add Date/Block'. Use this next time!
3. See Price Bands and Extras on Attendance Register
If you use Price Bands and Extras, you'll know it can be frustrating having to infer which Price Band has been booked from the price, or checking in two places to see if Extras have been booked.
No longer! You can now select Price Bands and Extras from the dropdowns on the Attendance Register. These fields will also be exported when you download the register.
4. New 'Transfer All' Option for Subscriptions
If and when you decide to increase the price on your subscriptions, it is now easy to do with our 'Transfer All' option on Subscriptions.
Simply create the new subscription plan at the new price, and then transfer all your subscribers with a single click.
... And the Bug Fixes include (among other things):
Categories now only show if there are live booking options for those categories.
Notify Waiting List now allows you to select Archived Group Events
Intermittent bug with duplication of reported revenue fixed
And we've already started work on our next update!
All our updates are done to make Book That In better for you. So if there is anything you wish the system would (or wouldn't) do - please get in touch to let me know!
To your success,
Tim