About Book That In
Why We Do What We Do
Our mission at Book That In is simple: we want to help people make the most of their lives.
It's not a complicated mission – it might even sound a little twee - but we believe in it unapologetically: life is short, so let's fill it with as much happiness as possible!
How Do We Do That?
We believe that our happiest moments in life come from experiences and people. So we create tools that make it easy for you to do more of the things you love with the people that matter to you. In the real world.
The virtual world, for all its ills, is amazing. It connects us, informs us and entertains us. But nothing will ever beat the sheer joy and happiness that comes from spending real, face-to-face time with the people we love and experiencing new and wonderful things in the real-world.
It feels like the pendulum has swung too far to one side and we're spending too much time in the virtual world. We're helping to swing the pendulum back. Bringing balance to the force, as it were.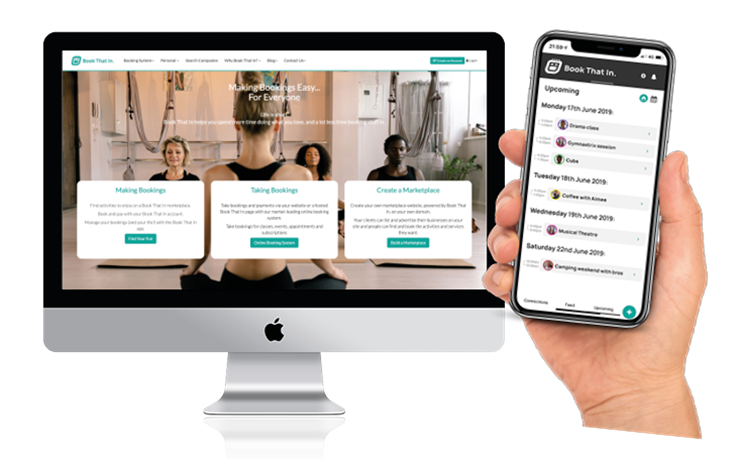 So what IS Book That In?
Depending on who you are, Book That In offers different things.
To the individual, we offer you a way to easily book and manage activities to enjoy with your friends and loved ones. Through the Book That In app, you can organise your family life and quickly and easily organise meet ups with friends.
To the business owner, we offer a slick booking system which automates your admin and frees up your time. Perfect for small businesses and franchises, we give you a cutting-edge booking system at micro business prices. Ambitious business owners can even use Book That In to build their own niche service marketplace website!
Whoever you are, these tools make it easier for you to do more with the people you love. 
Our Story (the short version!)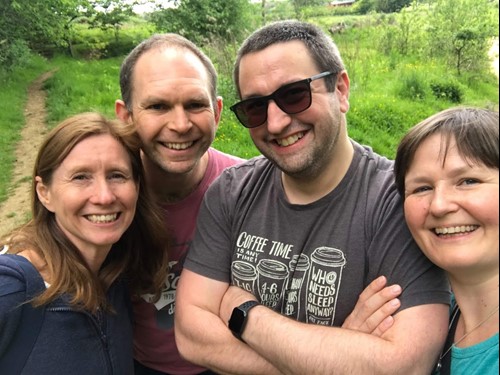 Allow me to introduce ourselves properly - we are Tim Freed and Alec Wadey, co-founders of Book That In.
By some weird freakish coincidence, we both have 3 children each - and they're almost exactly the same age, with birthdays just a few weeks apart.
If it wasn't for our children, Book That In would never have existed. Our wives (Claire and Ruth) met at baby swimming classes when the first of our little tribes were born, and our bromance (as many people have called it!) has grown and flourished since then. Without the children, we would never have met. But nor would we have ever had the inspiration to create this business.
Back in 2010, I (Tim) set up a local magazine business called Toddle About - inspired by the new bundles of joy in our life, I wanted to make it easy for new parents to find out what was going on for babies and toddlers. It's still a great little business: we have magazines in several counties run by local franchisees.

Not long after, Alec started work on his own business called Ding Dong Diary - a family organiser app that would forever replace the 'Gruffalo' family calendar on the wall in the kitchen (and stop him getting in trouble for double-booking things that clashed with parent's evening).
Alec had already started expanding Ding Dong Diary into a booking system when we joined forces in 2017 - and we realised that we could help each other make our visions a reality. More than that, actually. We realised that our visions and our mission were the same. So teaming up was the obvious decision. We brought different skill-sets to the table (I brought my sales and marketing experience, and Alec brought his impressive tech and IT knowledge) but we had the same goals and values. The dream team was formed :-).
Ding Dong Diary morphed into Book That In as you know it today, and Toddle About became the first niche service marketplace to be powered by Book That In - a market-leading search engine for baby and toddler activities. We are now both co-owners of Book That In and Toddle About and we're building an amazingly talented, loyal and fun team around us who are helping to turn our dream into reality.
We're soooo excited to see how far things will go and how many people's lives we can impact for the better - and we hope you'll join us for the ride.
Tim Freed
Book That In Co-Founder
The Future
We are constantly evolving and growing Book That In. How can we improve what we do? Please get in touch and let us know!
As I write this at the beginning of August 2021, we have so far processed over £3 million of bookings through Book That In – over 60,000 people now use their Book That In account to make bookings, and the number is rising every day.
That's thousands upon thousands of new moments of happiness that we have facilitated. Thousands more new connections between real people in the real world. It's hard to imagine the knock-on effect of all that!
It puts a smile on our face, though. It makes us happy. We hope it makes you happy too.